Am I Too Old For This?
by Mary Sheehan Warren on 05/21/12
Me: Am I too old for this top?
Husband: No, not at all. It's just that it kind of looks like you're one of those ladies who actually looks really good in it but because everyone knows your age they think you are too old for it. But you look great in it. And you're not too old for it. Did I say you look great in it?
Huh?
I married this guy partly for his clever use of words, (yes, he talked me into it) but I honestly never pictured an exchange like this while walking down the aisle twenty years ago.
Did I just say twenty years ago?
Was it really twenty years ago that I sported big curly bangs, a plastic headband, and mattress-sized shoulder pads? Was it really twenty years ago when I last had a flat little tummy and cute size 6 feet?
Well, yes, and 1992 can keep it. I've earned my stretch marks, and man-hands, and size 8 feet. Every infant asthma attack, call from school, and unanswered Saturday night text has each resulted in a healthy tuft of gray hair, and many of my laugh lines actually came from crying.
But I held on to the love of my life (that would be my husband) and I now know and love five additional human beings whom I could never have imagined while belting out B52 songs from the driver's seat of my 1979 Ford Fairmont. Indeed, if they had been in that particular car at that particular moment, they would have ordered me to change the radio station and clear the Big Mac cartons off the vinyl seats. There's no way I could ever have imagined that!
So, I respect the gray hair (dyed, of course), laugh lines, and man hands. So should everyone else. This is why I ask questions like:
"Am I too old for this?" Which, translated, means, "Do I look like I regret my age? Regret all the great stuff I've done? Do I appear to deny the existence of my children, long credit history, and laugh lines?
It's a legitimate question. It's legitimate because, over time and through a growth in wisdom, I have an extra sort of dignity: I'm someone's wife; I'm someone's mom. When I'm someone's grandma, then I'll have an even larger dose of this special dignity.
Even without these someones, I'm now at the stage where, honestly, my opinion holds more weight on more matters then any little cutie under the age of forty. I don't mean to sound harsh, but that's how it works.
So, what is age-appropriate fashion?
In honor of all the "someones," the wisdom, and the fact that I'd never go back to 1992 or even the body I had, here is a visual explantion:
**********
Yeah sure, skinny jeans are great with boots. Here in Wisconsin we've been tucking our jeans into our boots since the time of the bell bottom. In summer, things can get a little tricky because everyone seems to forget that skinny jeans should work like leggings which should work like panty hose. That is, you wouldn't wander out of the house with a cropped top or t shirt over your panty hose. So, don't forget the longer top, tunic, or wrap for good rear coverage.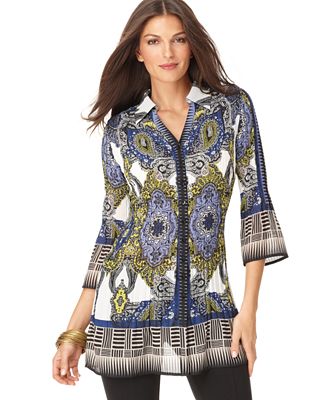 Of course, "trouser-cut" jeans and trousers take first place for flattery:
(Roxy)
Overall proportion is important but a little trickier at the later stages of wisdom because current fashions cater to a taller, androgynous (boy-like) silhouette. (Yeah, I got curves and I know how to tastefully clothe them.)
Forget the boy stuff:
Remember thinking, "Oh, that's really pretty but I'm too young to wear flowy things like that"? Well, here's a flowy thing that your daughter will want to borrow. Below is a flowy thing for when it gets a little hotter. (Or, you get a little hotter.)
Soft Surroundings
Wear beautiful colors around your face. Go for a scarf or a breathtaking pendant or chunky necklace.
Independent Boutiques are best for accessories.
The sheath is back and it's a keeper. I'm going for below the knee. I'll add a cute black bolero jacket because the air conditioning is on full blast.
On a good day, and maybe for a few hours, I'll wear a pair of platform shoes that the younger set still hasn't figured out how to walk in:
"Fly London" is almost always comfortable.
It doesn't matter if you get the great stuff at H&M or Chicos or Coldwater Creek. Be an ecclectic shopper so no one can peg your shopping.
Yeah, Chico's
So, maybe my exchange with my husband should go something like this:
Me: What do you think of this top?
Husband: You're just too good for it darling.... so let's go to Tiffany's to pick you up a little something for our 20th.