Grandma's Top Ten
by Mary Sheehan Warren on 05/08/13
You've met my Grandma Brown. (Well, sort of.) As you know, she is someone with whom you'd double check your manners.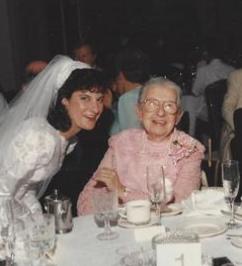 May's the month to check those manners. You've got a graduation, First Communion, and maybe even a wedding on your calendar. As if to foil your attempts at good taste, however, the temperature has risen and folks are shedding clothes as if there's a monetary prize for the category "most skin." That irks Grandma.

So, Grandma's given to us her Top Ten of Primer-Level-Special-Event Etiquette.

1. "Respond to the invitation. Please. I mean, really. Shame on anyone who doesn't take the time to call back, write, or fmail. I mean, email."Editor: Do so with the suggested method of response well before the date of the event.

2. "Don't look like Gravel Girtie. Or a Street Walker." Editor: Dress for the occasion. Better to cover shoulders during any church ceremony and ensure that your hemline gives respectable coverage than to leave things naked to the winds of scrutiny.

3. "Do not announce yourself at the ceremony with the ringing of your telephone, especially if you are late. Shame on you." Editor: Arrive on time with your telephone turned off. Please. Better yet, leave that thing tucked away in your car. If you want to take photos at the most solemn part of the ceremony, hire a photographer or use a good camera if the permission to take photos has been given. In this way, your treatment of the ceremony doesn't seem accidental.

4."Your little telephone might be pretty but it has not been invited to dine as a guest." Editor: The phone should stay powered down during the reception and off the table as well. Do not even pick it up during the meal. (This includes using it to prove that you do indeed know the name of Edith's beau on Downton Abbey.)

5. "That first gentleman shouldn't have left Edith at the altar. Shame on him." Editor: Do not engage in TV show-talk that others cannot understand. For that matter, keep continual inside joking or shop talk away from the table.

6." Do not bite my bread or drink my water. I know you're hungry, but Good Heavens!" Editor: Remember the rule, BMW: Bread plate on the Left, Meal or Meat in the Middle, and Wine or Water on the Right. Also remember that utensils work for each course, starting on the outside and working in.

7. "Is that you on that little television screen with a shoe in your mouth and a napkin on your head? Shame on you." Editor: Behave yourself. Do not drink so much alcohol that you loose control.

8. "Put that thing down! I am attempting to swallow my meal." Editor: Candid photos are a nice addition to anyone's wedding journal. However, no one is too thrilled to see Grandma negotiating roast beef through her dentures or Uncle Bobby aspirating the punch.

9. And don't give disgrace a name. Editor: When posting any photo (even seemingly flattering ones) ask before you tag it or place it on another's wall or status in social media.

10. Say thank you like your own Grandmother told you to say thank you. And, you're welcome. Editor: Yes, walk up to your hosts and person of honor, congratulate them, and thank them for a lovely event.

Thank you Grandma.