Prom Angst
by Mary Sheehan Warren on 04/05/11
You thought that maybe it would pass you over. Indeed, you were counting on that wacky off-chance that your daughter would be booked with other things on the night of the prom (like homework or the flu) and so you wouldn't have to worry about Lady Ga Ga shoes and shiny polyester tubes of fabric (often called dresses).
But here she is. She's come to you with her demands: "A decent dress that's nothing like your ugly 80s outfit you tried to pass off as fashion at a thing you tried to pass off as a prom," she says.
Then, your demands: "Yes, a decent dress for sure. And it has to be at a price that won't risk our grocery fund. And 80s... what?" (You weren't even thinking about the 80s when she started, but now that she's mentioned it...)
If you don't have any angst as a parent about prom night, then you are missing out on some of the most colorful kind of angst there is (colorful and shiny).
Think of it: We spend the whole year telling our daughters to "study hard," "use your brain," "reject those sexualized marketing messages" "don't worry about what your peers think," and "beware of those creeps out there," only to parade them (our girls, not creeps -hopefully) out to the stretch limo in a type of fashion which serves poetically as metaphor for what we don't want our girls to be.
And we pay for it.
It's kind of twisted.
Of course, we don't like it. ("Oh that's just teen stuff...it'll pass; Why make a fuss?) We laugh nervously as our daughters get compliments from people we think should never have noticed.
Well, it's okay to just say no. Go back to the basics and explain simply that she's just too good for polyester tubes and Lady Ga Ga shoes. Tell her why she's important. Tell her why with love rather than anger.
Ensure her that she can be hip, elegant, and at the same time...dare I say it? Modest.
There is such a thing as modesty (it's not meekness or shyness about one's accomplishments...more like an I-value-myself/self-preservation- kind-of-thing), and one remembers that it is indeed a virtue, especially at times like this. (Remember those things called virtues? Some basics are honesty, industriousness, charity, etc.)
So, establish your rules and offer some alternative fashion. Use the word "tasteful," "sophisticated," "understated" and such. The dress you find might be from T.J. Maxx or Macy's or the Salvation Army. It might even be from the Misses department of your favorite boutique. Just don't pull out your puffy sleeved 80s polyester tube thing.
Some on-line finds: (This year it's long, short, full skirts, or simple sheaths; Color is key.)
Nordstrom
Dillards
Macys
J.C. Penny
Dillards
Target
Nordstrom
Kohls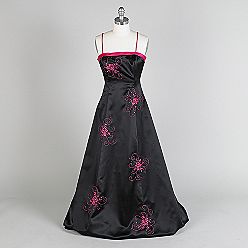 KMart