The Handbag is a Gift to Women
by Mary Sheehan Warren on 09/23/13
Anyone who has ever heard me speak about clothing (or shopping or economics or world events or philosophy) has heard me also expound upon the glories of the handbag.
(A Hermes bag that is so expensive, I'm embarrassed for my fellow bag lovers to tell you about it. Let's just say that it costs a little more than what a U.S. Senator made in 2012.)
Oh yeah, I can get the topic into almost any conversation.
That's because the purse or handbag or "pocketbook" (hubby says that) is so endlessly fascinating. First, as an appendage to any ensemble, it's an extra burst of shape and color and gives something for the shoulder, forearm, hand, or fingers to do.
Second, it's actually rather symbolic of modern female freedom. I mean the real kind of freedom: The ability to leave the house, enter public spaces, or actually need things while traveling. These are freedoms we didn't enjoy in quite the way men did for so many centuries. Fashion historians are pretty much in agreement that, yes, women had the reticule or a skirt pocket to keep keys and sewing projects stashed, but the shoulder bag is a convenience enjoyed by women only in recent times.
Yes, I know, the shoulder bag is something which came with the strains of women working to fill the labor shortages during both World Wars, but can't you just imagine what the average woman's thought when she first slid her arm through a cross-body or messenger or a long-handled tote?
"Why look at this! My hand is free! I can hold railings on stairs and pull my two year old back from the candy aisle!"
And finally, there's the whole deep-dark-private-what's-in-that-thing? mystique. Most of us know to never - I mean NEVER - go into another woman's purse without her permission. It's private, like the inside of her clothing, and contains whatever she darn well pleases. After all, there are no rules about what to carry in a handbag.
I remember my very first real handbag (as opposed to a Holly Hobby felt tote or a margarine tub reticule my babysitter crocheted me). My mother bought me a burgundy and tan canvas satchel to go with my burgundy and gray uniform (Elizabeth Seton High School, Bladensburg, MD, 1980 - asked to leave so I didn't make it to 1984). Poor mom. She had high hopes for me, and the purse symbolized not just her hopes, but it was a sort of rite of passage; a member's card to an exclusive club called "woman."
I loved that bag. But I can't decide if its capacity for organization and reliability actually helped me with my undiagnosed Attention Deficit Disorder, or just distracted me during math class and doomed me to a life-long love affair with two-handled bags with deep pockets. To my delight, I found that I could place money in the left pocket, lip gloss in the right one, and another certain necessity in the deep, dark zippered compartment hidden toward the bottom. Oh the glories of one's own personally arranged, private, and very off-limits space!
So, how many handbags have I owned since then? Well, if I don't want to count, I don't have to. (I don't think I could anyway, actually.) Rather, I remember the more remarkable ones like the "New Wave" color-blocked envelope clutch I carried to public high school (Getting "asked to leave" a private school has its upside), or the olive messenger bag I carried through college, or the black leather croc-embossed bag I got with my gift certificate to Marshall Fields.
And how many bags do I own now? I think the question should be more like, "What bags do I carry now?" One at a time, of course.
And how does a woman logically choose a bag?
Well, those will be the topics of my next blog so you'll just have to hang on 'til then. Until next week (that's the goal, anyway) I leave you with the following tour through this season of handbags: (Something for everyone; All from Zappos.)
Frye
BCBG Generation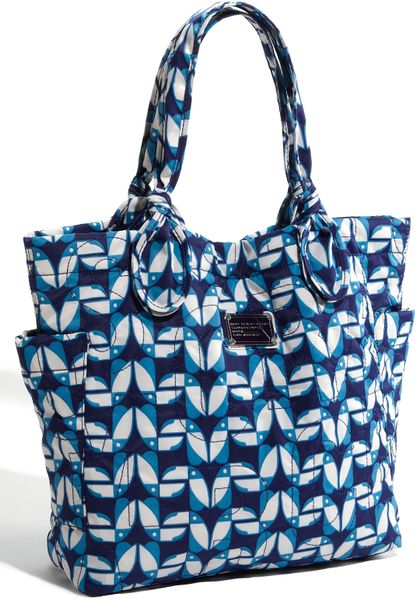 Marc Jacobs
Cole Haan
Nine West
LeSportsac
Hobo
Aldo
Anuschka - No need for hands-free in order to pull your toddler away from the candy aisle. She'll be enamored by this and won't want to leave your side.